Chersonesos Taurica (Khersones) is a city founded by Greek colonists, more than two and a half thousand years ago in south-western Crimea. At the moment, its ruins are among the most outstanding sights of Sevastopol.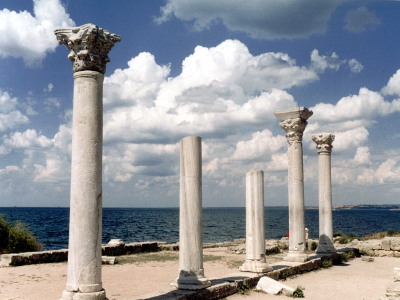 The word "Chersonese" is usually translated from Greek as "Peninsula". The city was actually located on a small peninsula between two bays. This city-state had a long life - nearly two thousand years - and its history is connected with the history of ancient Greece, Rome and Byzantium.
Museum-Reserve is very popular. Each year it is visited by tens of thousands of tourists. They are attracted by the collection of epigraphic monuments (including the world-famous oath of citizens in the Chersonese III. BC.), works of art, crafts and tools, household items, which were used by residents of Chersonese.

Tourists can learn the territory of the ancient city: walk along the main street, wander through the once-vibrant residential neighborhoods and areas, explore the ruins of the ancient theater, white marble columns of medieval churches, the remains of the magnificent fortifications - walls and towers.